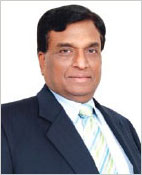 It gives me great pleasure to welcome you to our site. The BIG group has a special significance to me personally, as it marks the completion of 15 financial years under my leadership as Chairman. It gives me a deep sense of satisfaction to highlight to you that last five years have seen multiple growth in values and formation of NEW Companies within our fold.
Such performance would no doubt be a source of satisfaction to all of us.
The long term growth prospects of our Group are really encouraging.
"Our business in life is not to get ahead of others, but to get ahead of ourselves, to break our own records, to outstrip our yesterday by outperforming today"
We are committed towards investing in BIG''s future. We are confident that our large capital expenditure programme will enable us to take full advantage of our market leadership positions and achieve our growth ambitions.
I would like to thank all our colleagues in India and around the world for their hard work and valued contribution on ongoing basis. Together we have much to look forward to as we strive to make our Group even stronger and continue to focus on delivering for our customers.
I am grateful to the Board of Directors for their unwavering support and guidance. I take this opportunity to express my gratitude to all our Business Associates, who have reposed trust in us and extended their constant support.
With best wishes
Sincerely,
Mr. Vijay Bhimrajka
Chairman & CEO